05/03/2023 – 05/05/2023
Capacity: 285
65 spots left
0 Breakout Sessions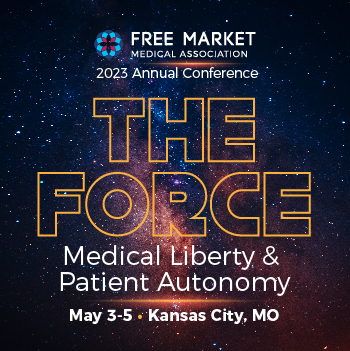 2023 FMMA Annual Conference
May 03, 2023 - May 05, 2023 @ Hotel Kansas City in Kansas City, MO
220/285 Attendees
From May 3-5, 2023, at Hotel Kansas City in Kansas City, Missouri….
In our own galaxy, very very near, medical liberty and patient autonomy are under threat.
The Empire — the current, overpriced, underperforming U.S. healthcare system — has four trillion reasons to protect its status-quo system. The Rebel Alliance — a growing movement of free market entrepreneurs and enthusiasts — have been enlightened on a new path forward: direct care models built on transparency, affordability, access and a better physician and patient experience.
Join us at The Force: Medical Liberty and Patient Autonomy, where these rebels and freedom fighters come together to illuminate free market healthcare models and learn from Rebel Leader Luminaries like Peter Klein, Chris Deacon, Dr. Keith Smith, Cori Zavada, Dr. Arti Thangudu, Shawn Strash, Dr. Cristin Dickerson, Jay Kempton, and more.
Don't miss this opportunity to learn from experts, network with fellow advocates, and take action to defend medical liberty and patient autonomy adhering to free market principles.

At the 2023 FMMA Annual Conference attendees will:
* Expand the reach and value amongst employers
* Leverage the wisdom of the National and Local Chapters to build Direct Care strategies and plans
* Convene Direct Care clinicians, benefits advisors, employers, and community leaders
May the force (and the free market) be with us.
The Rebel Invasion begins on May 3, 2023, in Kansas City.
Do or do not. There is no try.
Guest Tickets are available for the cocktail receptions on Wednesday & Thursday with no session attendance for $150.
Registration $1200
Member Price* $675