05/03/2023 – 05/05/2023
Capacity: 300
286 spots left
0 Breakout Sessions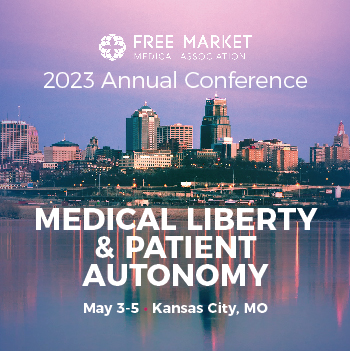 2023 FMMA Annual Conference
May 03, 2023 - May 05, 2023 @ Hotel Kansas City in Kansas City, MO
14/300 Attendees
The healthcare industry has lost its way. It has become an industry that sees patients not as individuals, but as a means to an end, a cog in a money-making machine. Patients have been conditioned to accept this as truth, and do not understand how they can personally change this reality. Physicians vow to "do no harm" yet the model as it exists for most contributes to excessive waste, medical errors, and financial ruin, There is a better way.
On May 3-5, 2023 join the Free Market Medical Association for the cant-miss event of 2023 where free market enthusiasts, clinician entrepreneurs, solution providers, and healthcare purchasers will convene to discuss alternative ways Americans can deliver, access and purchase healthcare. There is no better place to gain insights, and make direct connections that help accelerate the adoption of free market models.
Our goal this year is to expand the reach and value amongst employers and leverage the work being done at both the national and chapter levels to help organizations build Direct Care strategies and plans. We do this by convening expert direct care clinicians, benefits advisors, employers, and community leaders who are passionate about medical autonomy, saving money, and providing higher quality care.
FMMA members and aligned organizations from around the country will be there to welcome you and support you — whether you are new to the FMMA or a long-time supporter. This is THE event to make the connections to create new business opportunities and more sustainable, affordable, quality healthcare for all.
Guest Tickets are available for the cocktail receptions on Wednesday & Thursday with no session attendance for $150.
Registration $1200
Early Member Price* $575
*Early registration closes in